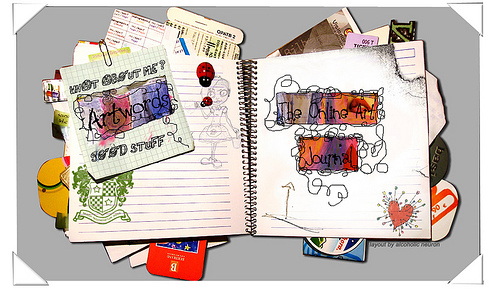 Art Journaling as a Creative Process
An art journal is a journal in which you combine art and words to express yourself.  It's all about self-expression.  Artists through the centuries have kept notebooks in which they sketched, practiced, experimented, and recorded themselves.  Whether you think you are an artist or not,  you can create an art journal without drawing or sketching.  You can use collage techniques, stamp images, vintage photographs and magazine images to express yourself.

Art Journal Resources

Art Journaling 101 for Kids, Teens and Beginners


Art Journaling for Kids, Tweens and Teens Prequel
Art Journal Videos on YouTube
The Videos run one after another.  If you have trouble starting where you left off, click on the YouTube button on the bottom right of the video after clicking play and it will take you to YouTube where you can select the video of your choice in the playlist. If  you click the playlist button it only shows you 6 videos to pick from.  If you start with the sixth video it will continue to play one after another.  I don't know how to start on a video after that without going to YouTube.  I created this page for myself to watch the videos and learn from them without having to go to YouTube. I will work on posting the videos separate so that you can watch them individually on my website unless I find a better way for the playlist.
Video Playlist by Jennibellie – She creates art, journals, videos, and tutorials. Jennibellie Studio
Art Journal Page: Patchwork pattern with paper scraps
More of Nika in Wonderland Videos YouTube

Art Journaling with Koi Watercolors by Sakura Color Products
Download handouts for above video at http://www.sakuraofamerica.com/juliebalzer
Junk Journal:
Contact Information:
Affiliates:
Art Journaling-It's all good! My Page
 Places to Shop:

Cloth Paper Scissors Shop – where mixed-media artist come to play